TriShield™
Insecticide, Miticide & Fungicide Concentrate
General Hydroponics
Developed by General Hydroponics® Ph.D. scientists and tested in collaboration with The Ohio State University, TriShield™ Insecticide, Miticide & Fungicide Concentrate was crafted to help prevent and treat various plant pests (as listed) and powdery mildew. University and internal studies conducted at multiple locations with Cannabis sativa (hemp) confirm this product's efficacy at controlling and eliminating certain pests and powdery mildew, even during critical infestations.
Helps control mites (two-spotted spider mites, russet, and broad mites), aphids (cannabis, green peach, and foxglove aphids), thrips, whiteflies, caterpillars, and powdery mildew.* Kills insect and mite eggs.
*Tested for powdery mildew on hemp.
This product qualifies for exemption from EPA registration under FIFRA as a minimum risk pesticide. Approved for use on hemp, vegetable plants, and ornamentals grown both indoors and outdoors.
Available sizes
Contains three active ingredients that use multiple modes of action to kill on contact and control insects, mites, and powdery mildew. Also effective on insect and mite eggs. Use as the cornerstone product in any IPM strategy. Great for foliar applications or when used as a dip for cuttings.
This product qualifies for exemption from EPA registration under Federal Insecticide, Fungicide and Rodenticide Act (FIFRA). To learn more about Minimum Risk Pesticides (also referred to as 25b) please visit the EPA website.
✔ Mites (Two-Spotted Spider, Russet, Broad)
✔ Aphids (Cannabis, Green Peach, Foxglove)
✔ Thrips
✔ Whiteflies
✔ Caterpillars
✔ Powdery Mildew*
* Tested on hemp
For use with
Pests *
Broad Mites
Powdery Mildew
Russet Mites
Spider Mites
Thrips
White Flies
Two-Spotted Mites
Caterpillars
Cannabis Aphids
Green Peach Aphids
Foxglove Aphids
Insect u0026 Mite Eggs
Plants **
Hemp
Vegetables
Herbs
Fruits
Flowers
Other high value crops
Resources
u003culu003ernu003cstrongu003eActive ingredients:u003c/strongu003ernu003culu003ern tu003cliu003eSoybean Oil u003cspan class=u0022percentageu0022u003e30.0%u003c/spanu003eu003c/liu003ern tu003cliu003eSodium Lauryl Sulfate u003cspan class=u0022percentageu0022u003e7.50%u003c/spanu003eu003c/liu003ern tu003cliu003eCitric Acid u003cspan class=u0022percentageu0022u003e0.15%u003c/spanu003eu003c/liu003ernu003c/ulu003ernrnu003culu003ernu003cstrongu003eInert ingredients:u003c/strongu003ernu003culu003ern trn tu003cliu003eWater, Sodium Benzoate, Tripotassium, Citrate Monohydrate, Potassium Sorbate u003cspan class=u0022percentageu0022u003e62.35%u003c/spanu003eu003c/liu003ern tu003cliu003eTOTAL u003cspan class=u0022percentageu0022u003e100.0%u003c/spanu003eu003c/liu003ernu003c/ulu003e
** Do not use on sensitive plants, such as head and stem Brassica and leafy Brassica greens (broccoli, cabbage, and cauliflower), Chamaecyparis, Cryptomeria, Japanese holly, red cedar, and smoke tree. Avoid applying if plants are wilted or stressed.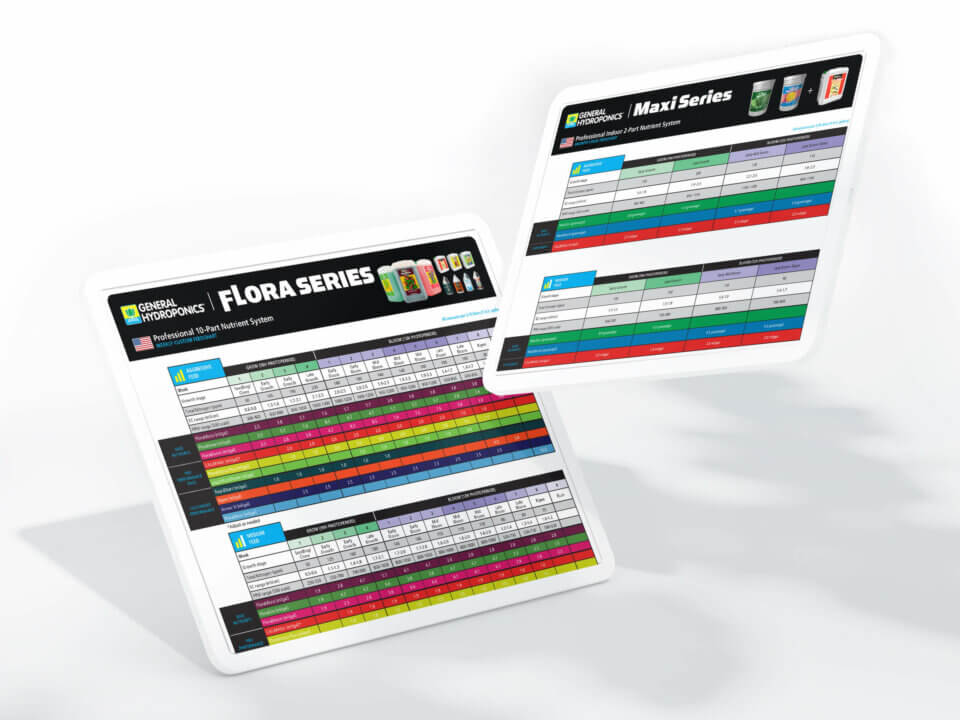 Getting started
Learn from the best
Grow like a pro
Explore the most comprehensive offering of commercial growing solutions tailored to support your entire operation end-to-end and get the greatest possible returns while staying one step ahead of the competition.
FAQs
// = $title; ?>
// = $title; ?>

Absolutely! All of our nutrient blends contain the necessary elements for plant growth. Start with the formula ratios identified on the label for the specific plant or crop you are growing, and then adjust and experiment until you find the right formula for your specific need.

For further information, refer to our feed charts.

// = $title; ?>

pH is a measure of the hydronium ion H3O+. It is based on a logarithmic scale from 0 to 14. "Pure" water has a pH of 7.0. If the pH is less than 7, the solution is acid. If the pH is greater than 7 it is alkaline. Because the scale is logarithmic and not linear, a pH of 6 indicates ten times more H protons than a pH of 7, and a pH of 5 indicates 10 times more protons than a pH of 6.

// = $title; ?>

Ventilation is often overlooked as a problem. Plants absorb nutrients when the water molecules in the leaves respire (i.e. evaporate). Better ventilation aids a high transpiration rate, which translates into a greater rate of nutrient uptake. Remember that ventilation means changing the air, not just blowing it around the room (circulation).

// = $title; ?>

pH is important because it affects availability and absorption of several of the 16 atomic elements needed for plant growth. Maximum absorption of these elements is found at pH readings 5.5 to 6.5. When pH falls below this range many of the macro elements (N, P, K) have less availability, and absorption of the micro nutrients can reach toxic levels.

// = $title; ?>

Water containing too much calcium and magnesium (called "total Hardness") may create serious problems. Contact your municipal water supplier who can provide you with an analysis of your water supply. If you are using well water, many laboratories can provide you with an analysis if you send them a sample. If the dissolved salts in your water supply measure 200 ppm or more, we strongly recommend that you obtain a water analysis to determine calcium content. Excessive calcium is the main factor in determining if your water is hard. If an analysis of your water supply reveals that the Calcium content of your water supply is greater than 70 ppm (mg/liter) you should use Hardwater FloraMicro. Hardwater FloraMicro provides rapidly growing plants with a combination of chelated micro nutrients uniquely formulated for hardwater conditions. Other options are to collect rainwater, install a reverse osmosis filtration system, or use purified water. Do not use mineral or "spring" water, which can unbalance the nutrient solution, or even be toxic to plants.